About
Wednesday, May 11, 2016
Thanks for visiting Eating Ideas!
---
I started this blog in August 2011 as an outlet for my passion for food.  I have always had a love for both cooking and baking, which I inherited from my Mum, Dorothy and my Grandmother, Madeline. They both loved to cook and taught me to cook from scratch, using seasonal ingredients.  My grandmother showed me how to make traditional Irish breads and my mum introduced me experimenting with recipes from other cultures. They were my inspiration.
At school I aspired to be a Home Economist, creating extraordinary food for photoshoots, but real life got in the way and my career took off in another direction. So I created Eating Ideas to help me fulfil some of my childhood dreams, albeit a little later than planned.
I love creating recipes, writing reviews, keeping chickens and trying new things.  Eating Ideas is about sharing all of that with anyone who is interested. My recipes have been featured on www.voucherbox.co.uk,  www.wayfair.co.uk and Vita Coco's site, www.swearbyit.com. I also write restaurant reviews not only for the blog but for www.loveBelfast.co.uk – a perfect job as I have always been an ambassador for my home city as well as for the whole of Northern Ireland.
One of my proudest moments was when my recipe for soup won the New Covent Garden soup of the month competition and was produced and sold across the UK. I still have an unopened carton in my cupboard – well past it's sell by date!  Another recent highlight was being crowned champion of Northern Ireland's best scone- ah the dizzy heights!
I am a passionate foodie and I hope I can inspire you through Eating Ideas.
If you would like to contact me, my email is [email protected] or comment below.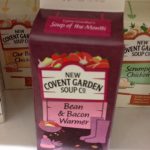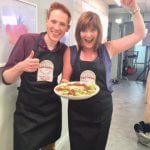 What Do You Think?
---
Recommend this content to other Eating Ideas readers by giving it a thumbs up!
---
Or why not tell us what you think by leaving a comment?
2 responses to "About"