5 reasons to make cupcakes and a recipe for Raspberry and lemon cupcakes
Thursday, June 22, 2017
There are many many reasons to make your own cupcakes but here are my top five: They are easy to make You can use any flavours You can get creative and decorate them anyway you want Just one can satisfy your cake cravings They are delicious I love making cupcakes, the whole process of baking […]
---
There are many many reasons to make your own cupcakes but here are my top five:
They are easy to make
You can use any flavours
You can get creative and decorate them anyway you want
Just one can satisfy your cake cravings
They are delicious
I love making cupcakes, the whole process of baking and decorating these little treats is totally therapeutic and the perfect thing to do at the end of a stressful day.  Best of all they can be frozen and you can just defrost a few at a time as you need them!
I wasn't sure if the combination of raspberry and lemon would work but my policy is to have a go (if they don't work, I have three pet hens who will demolish anything!)  My main rationale for trying this combination was that I had both raspberries and lemons in the house but I have to say they were a triumph, moist, fresh and zingy! I will definitely be making these again.  Give them a try and let me know what you think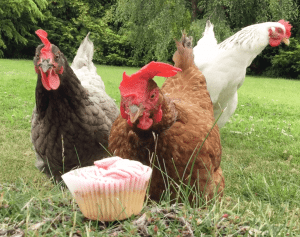 Ingredients
8 oz caster sugar
8 oz butter
4 eggs
8 oz self-raising flour
Zest of a lemon
Juice of half a lemon
FOR THE ICING
8 oz butter
16 oz icing sugar
125g carton of fresh raspberries
1 tbsp lemon juice (from the unused half a lemon)
Equipment
---
What Do You Think?
---
Recommend this content to other Eating Ideas readers by giving it a thumbs up!
---
Or why not tell us what you think by leaving a comment?