Talking NI Pork with Andrew Smyth
Tuesday, May 30, 2017
Great British Bake Off finalist and NI man, Andrew Smyth has joined the Northern Ireland Pork and Bacon Forum as brand ambassador. I was lucky enough to get a chat with Andrew to find out more.
---
I am a massive fan of the Great British Bake Off and was thrilled when a Norn Iron person got so far in the process!  I was delighted to get the opportunity to put a few questions to Andrew to find out what he has been up to and why he took up this ambassador role.
EI:  So Andrew, what have you been up to since the bake off?
Andrew: Well, quite a lot actually.  I've been to lots of science festivals and food festivals.  I'm basically trying to bridge the gap between engineering and baking. My ultimate aim would be to do something on TV on incredible baking sculptures inspired by engineering. I'm also doing some presenting work and have a monthly spot on the Lorraine show alongside my full time job! I work as an engineer for Rolls Royce and they have been really supportive, letting me work a four day week.
EI: As a Norn Iron man living in England, where are your favourite places to eat when you are home?
AS: Lots of places. I love eating at the Ramore in Portrush when I am on the North Coast. I am keen to try Ox in Belfast as I've heard amazing things about it but am never organised enough to get it booked in advance.
EI: So how did you get involved with the NI Pork campaign?
AS: I'm keen to do more stuff at home and am a big fan of supporting local producers. I got chatting to NI Pork and we were discussing how people can get stuck in a rut with pork and be very unimaginative in how they cook it. They asked me to get involved to show that it's actually very versatile and great value.
EI: What's your favourite pork recipe?
AS: oh I can personally vouch for them all as when we were filming making them, I've never been fuller in my life! There was one that I loved. It's bacon sandwich with cheddar and a really nice wee relish. It's one of the simplest recipes that we filmed and it's incredible!
EI: I see you've started a blog- how's that going?
AS: I really should dedicate more time to putting stuff on the blog. It can be a struggle to find the time to do it. I've a whole list of ideas I want to put on it.
EI: Any tips for anyone wanting to start a food blog?
AS:: I'd say don't try to emulate someone else's blog. There are so many blogs out there and it's easy to be a copycat. There's also a trend on Instagram at the moment to make things look outrageously good, almost cosmetic. Whilst that has a place, I think there's an opportunity to make it look more accessible and let people see that they could make it too.
EI: I saw that you recently attended the BAFTA TV awards- who made you feel star-struck?
AS: I was just trying to keep calm all evening. There were so many celebrities there! I saw Jennifer Saunders and Joanna Lumley who were both hilarious. I did walk past Benedict Cumberbatch but there is a kind of do not approach rule that I thought I should follow.
EI: you have now created all the recipes for Ulster Pork. What's next?
AS: We are now going to share the recipes and I'm really keen to see how they go down. I would love to see people trying them and enjoying the dishes. I would definitely love to do more. For me it's a win win. It's getting people in the kitchen and it's promoting local produce. We are really promoting the assured origin pork, which is tasty, great value and supports local producers.
EI: So Andrew, one last question and it's a big one! Bacon sandwiches, the great debate- tomato ketchup or brown sauce?
AS: Believe it or not, we actually discussed this when we were filming. I think I can tell you that I'm a tomato ketchup man through and through. I wouldn't have it any other way!
As ambassador for NI Pork, Andrew is actively encouraging people to buy items which carry the Assured Origin logo which guarantees that the cut has been wholly produced in Northern Ireland and in line with some of the highest standards in Europe.  You can find out more on the NI Pork Facebook page here
Pictured with Andrew is Deirdre McIvor, Chief Executive of NI Pork and Bacon Forum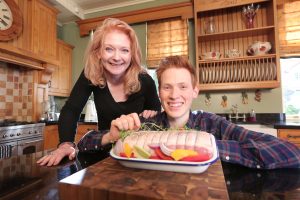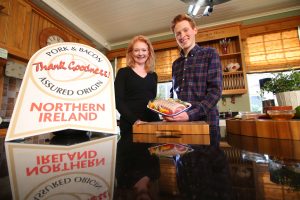 What Do You Think?
---
Recommend this content to other Eating Ideas readers by giving it a thumbs up!
---
Or why not tell us what you think by leaving a comment?
2 responses to "Talking NI Pork with Andrew Smyth"