Don't miss the Moira Speciality Food Fair on Saturday 18 August
Sunday, August 12, 2018
If you are looking for something to do next Saturday, 18th August, why not pay a visit to the Speciality Food Fair in Moira Demesne?
---

The fair is in its fourth year and this year the focus will be on local artisan food along with sustainability and preservation of food.  All subjects that are very close to my heart!  The food fair is a really popular event and is a key date in Lisburn & Castlereagh City Council's summer events calendar.
The fair will feature a street food village with some great faces from Northern Ireland's street food scene.  These include, Dickie D's Grilled Cheese, Fionnbobs Food Wagon, Burger Republic, The Hatch, Barn & Bread, The Oyster Catcher, The Stillhouse, Belfast Wood Fired Pizza, Corndale Hog Roast, Hills Mixtape, The Fancy Fox and Pheasantshill Farm.  There will also be an extended artisan food hall, chef demos, café bar, street food and picnic village. This year an 'edutainment' element will be added to the line-up featuring expert talks, workshops and masterclasses for both adults and children.
Food producers from varying artisan backgrounds will take part including many of my favourites- Abernethy Butter, Ke Nako Biltong, Krazi Baker, Harnett's Oils, Burren Balsamics, The StillHouse Moira, Crumbs Vegan Bakery, Bara Bakehouse, Ispini Charcuterie and Ballyriff Buffalo, Mikes Fancy Cheese, Glastry Farm, Castlescreen Farm, Buchanans Farm Shop, Kennedy bacon, Corndale Farm, Amberline Preserves, Habenero Steves, Made with Love, Red Dog Sauces, Amazin Grazin, MangeTout Deli, Crumbs Bakery, Tasty wee numbers, Neary Nogs Chocolate, Jack's Fudge, Ni Cho Chocolate, Tom and Ollie, Simply Irresistible and Urban Indian
The Café Bar will also return, serving both alcoholic and non-alcoholic beverages suitable for all ages, with local apple juice, cordials, craft beers, ciders, and spirits. Speciality coffees for those in need of a caffeine fix will be served up alongside teas and hot chocolate. The StillHouse will up the ante in the café bar, bringing a taste of what is on offer in their newly created Distillery Bar located a stone's throw away in Moira village. Drinks companies featured include. Papas Minerals, Cubist Coffee, Hilden Brewery, Hughes Craft Distillery, Tempted Cider, Farmageddon Brewery, Echlinville Distillery, Jawbox Gin, Shortcross Distillery and Copeland Gin
The popular Kitchen Sessions will return to this year's Speciality Food Fair in addition to fringe events featuring leading chefs and experts. Award winning Moira chefs, Chris McGowan of Wine & Brine, Danni Barry of Clenaghans Restaurant and Stephen Jeffers of Forestside Cookery School will lead the charge with Chris focusing on a modern twist to traditional food preserving, Danni giving a workshop on foraging and incorporating your finds into your home cooking and Stephen offering a skills masterclass in addition to cooking a dish from his new cookbook.
'Edutainment' will once again be the key focus for all interactive family fun activities, encouraging kids to learn about the natural world around them and to get involved in planting their own food. Interactive activities will include bug hotel making, observational beehives, beeswax wrap making, all as 30-minute workshops running from 10am-3pm. For a full schedule go to the Visit Lisburn Castlereagh website.
Entry and parking to the Speciality Food Fair is free and will run from 10am – 6pm on Saturday 18th August. Access for disabled visitors is provided.
This promises to be a fantastic showcase of Northern Ireland's local, award-winning, food producers and perfect for any foodies or anyone just wanting to have a great day out with live entertainment from local musicians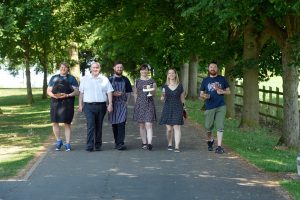 What Do You Think?
---
Recommend this content to other Eating Ideas readers by giving it a thumbs up!
---
Or why not tell us what you think by leaving a comment?