Lidl is supporting 11 local NI artisan food producers
Monday, September 24, 2018
Lidl is supporting 11 Northern Irish food producers through its Kick Start Supplier Development Programme. Pop into your local store and check it out!
---

A total of 11 artisan food producers in Northern Ireland have been selected to take part in Lidl's Kick Start Development  Programme 2018. This means they get to see their products on sale in all 195 Lidl stores throughout Ireland for a limited period.  I called into my local Lidl and was delighted to see several of my favourite local products on the shelves including, Curious Farmer recipe kits, Oh so lean meals, Erne larder bacon jam, Refuge Hot Chocolate, Hillstown Brewery beers, Feckin Vodka & Gin from Echlinville DIstillery, Copeland Gin, Noisy Nuts, Tom an Ollie pesto, Glen McDowell low-fat sausages, The Little Meat Company pulled meat amongst others.
about the lidl kick start programme
Lidl called on Northern Irish suppliers to enter the programme which is designed to help small and medium sized companies grow their brand and build their supply network.  There were over 200 entries and a total of 20 new products were selected.
This is an amazing opportunity for local companies and represents an investment of almost £180,000
cooking with the curious farmer recipe kit
I decided to try the Curious Farmer recipe kit that I discovered in my local Lidl Store.  The beauty of these kits is that they can be used in several ways.  One recipe is featured on the pack and two more can be found on the website.  I tried the Salmon Tikka kebabs which are super easy to make.  You can find the recipe  and instructions on the Curious Farmer website.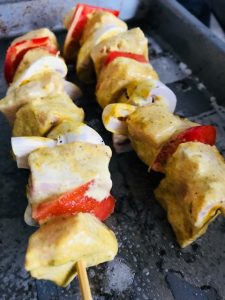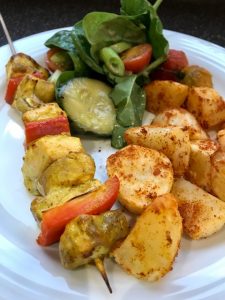 What Do You Think?
---
Recommend this content to other Eating Ideas readers by giving it a thumbs up!
---
Or why not tell us what you think by leaving a comment?