Enjoying fabulous Armagh & Down Food with #TasteTheIsland
Tuesday, November 5, 2019
I was invited by Tourism NI to experience some special Armagh and Down food experiences as part of their #Tastetheisland initiative. I have never knowingly turned down a great opportunity so I jumped at the chance.
---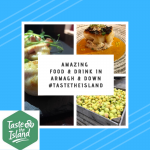 Taste the Island is a celebration of the outstanding food and drink across all of Ireland which has provided an opportunity to showcase some of the amazing products, producers and venues that we are lucky to have. 
The brilliant campaign is a joint venture between Discover NI & Discover Ireland.
This experience was gifted.
Mr. Eating Ideas was happy to join me on the trip and our first stop was the Inns Cross Market, a monthly farmers market that takes place on the 1stSaturday of every month on the Saintfield Road in Belfast.
I am a regular visitor to the market and love meeting local producers, hearing their stories and buying their top quality products.  I have taken several people with me on different occasions and everyone has loved the atmosphere, chatting over coffee, sampling different products and purchasing ingredients for dinner.  If you haven't been yet, you really should.  I can't recommend it highly enough! 
The tap room at hilden brewery
Our next stop was a visit to Hilden Brewery, a working brewery with a licensed restaurant, in a beautiful and historic Georgian setting at Hilden House in the village of Hilden just off the main Belfast/ Lisburn Road.
The Taproom restaurant is a hidden gem with fresh, seasonal and locally sourced food, all washed down with their own beers or any other drink of your choice.  As Mr. Eating Ideas and I had 2 full days of food and drink to consume, we decided to share a few dishes and opted for a nibble, a starter and a main.  For our nibble, we chose Fadge Bites, little pieces of home-made potato bread topped with apple, bacon and cheese.  Absolutely delicious and definitely the stand out dish for me.  For our starter, we shared crispy brie with plum & cranberry chutney. It was really tasty but if I'm honest, would have benefitted from being warmer.  We then opted for pan roasted duck breast with sweet potato rosti, red wine & blackberry jus and roasted vegetables.  Mr. Eating Ideas adores duck while I am not so keen.  It's not often I concede to his preferences but I'm glad I did. The duck was beautifully presented and tasted great. I particularly loved the sweet potato rosti which was a revelation, We also enjoyed sampling some of the craft brews on offer, Hilden Ale, Twisted Hop and Dunlop & Hume.
Next up was a visit to Long Meadow Cider to visit Master Cider Maker, Pat McKeever and his wife Catherine.  Regular readers will know that I am a self-professed cider lover and Long Meadow is one of my favourites.  When we arrived we were shown the piles of apples, just harvested and ready to be made into cider vinegar.  They gave us one to try and I couldn't believe how delicious it was.  Catherine had even made some into an apple pie for us to enjoy with a cup of tea and we loved it
We also enjoyed a tour of the orchard, the apple storage area and vinegar room where they make the most fabulous apple cider vinegar.  I take a shot of this every day for its health benefits and even give it to my hens as it is so good for their intestinal health and glossy feathers.  I should mention that Long Meadow also makes apple juice but it makes me feel sad for the apples that didn't fulfil their ultimate destiny to become Long Meadow Cider!
The coach house boutique b&B
Our next stop was to check in at the 5 star Coach House Boutique B&B, located just outside Dromore and only 10 minutes from Hillsborough and 25 mins from Belfast.  On our arrival, we were warmly welcomed by our host, Sharon, husband Andrew and their lovely children, Olivia, Grace and George.  Over a cup of tea and some sweet treats, Andrew and Sharon explained how they had got into the B&B business and their delight at getting their 5* rating from Tourism NI.
The rating is well deserved as they have gone to a huge amount of effort to ensure a luxurious and relaxing stay for their visitors.  Beautifully appointed room, ensuite with his and hers sinks, tea & coffee making facilities and more all made for a lovely visit.  There's even access to a hot tub with stunning views over the surrounding countryside (More about our stay further down).
After check in, our next stop was dinner in Clenaghans Restaurant just outside Moira. It is an 18thCentury building brought back to life with a warm welcome, open fires and a great atmosphere.
After perusing the menus for a while and enjoying the glow of the fire, we made our choices. For starter, I chose the Honey Truffle Feta with pear puree and celeriac remoulade.  Have you noticed the cheesy theme to many of my choices?  I hadn't realised that I am such a cheese fiend but Mr, Eating Ideas was quick to point it out!  I don't care, I love feta and this dish was a triumph!  He chose of the special menu and opted for the Dressed Crab with Lobster Bisque and curry oil (He's fond of the finer things in life) and declared it to be delicious!
For my main course, I ordered the Chicken Supreme with Guanciale, Spinach and Crème Fraiche which was a wonderful combination of flavours.  Himself chose off the special menu again and had the Pork Belly with Artichoke Puree and a BBQ Scallop which he loved.  Both dishes were served with crushed potatoes that were simply yummy.  I could happily tuck into those potatoes again right now!
Although we were completely full, we decided to share a Sticky Toffee Pudding with Miso Caramel & Vanilla Ice cream and the sweetness was the perfect finish to the meal. Both the food and service in Clenaghans were excellent and a special shout out to excellent waitress, Kelsey for her good humour and wine recommendations.
Breakfast in the Coach House Boutique B&B
After an excellent night's sleep in a very comfortable bed, it was time for breakfast in the Coach House.  I have to say that Sharon and Andrew pulled out all the stops with a fantastic range of food on offer- juices, tea & coffee, fresh fruit, mango yoghurt pots, bircher muesli and more to start us off.  There was also a selection of four hot dishes  to choose from.  I selected the smashed avocado, with smoked salmon & poached egg on wheaten bread and Mr. Eating Ideas had the full Irish with all the works.  All delicious and the absolute highlight was 5 year old George who served our bread with a winning smile and great enthusiasm.
Hillsborough Castle & Cafe
Our final stop was a visit to Hillborough Castle, a Royal residence within 100 acres of stunning gardens.  On our arrival  we joined a historic tour of the castle which was fascinating.  We also enjoyed a long walk through the grounds which are beautifully maintained and stunning to explore.  After our walk, we meandered through the Walled Garden and made our way to the Castle Café, run by Yellow Door Catering for lunch.  Again we decided to share dishes as we were both not very hungry and fighting over who would order the soup.  Having decided to share one, we chose the daily special of Swede, sage and honey soup which was warming and delicious. We also shared the Hoisin Salmon fillet with a range of salads, all with a nice cup of tea!
This trip was gifted by Tourism NI. Huge thanks to all our hosts for their wonderful hospitality- Inns Cross Market, Hilden Brewery, Long Meadow Cider, Coach House Boutique B&B, Clenaghans Restaurant, Hillsborough Castle and Yellow Door Catering. Thanks also to Jago Communications for organising.
#TasteTheIsland
What Do You Think?
---
Recommend this content to other Eating Ideas readers by giving it a thumbs up!
---
Or why not tell us what you think by leaving a comment?