A recipe for Crunchy Asian Slaw
Monday, May 20, 2019
This crunchy Asian slaw is a new favourite. Its fresh, zingy and truly delicious. Beautiful colours too!
---

I love experimenting with salads, there is just no end to the possible combinations.  I have been tweaking this crunchy Asian salad for a while and simply love the results.  It's my new absolute favourite.  Red cabbage, carrot, crisp green apple, mint, coriander, toasted sesame seeds and peanuts, all with a delicious dressing- what's not to like?  I used NyonOlive olive oil but any oil will work in the recipe.  Give it a try and let me know how you get on.
Ingredients
 1/4 large red cabbage (finely sliced or grated)
1 carrot (peeled and grated)
1 green apple (peeled and sliced)
1 tbsp chopped coriander
1 tbsp chopped mint
1 tbsp toasted sesame seeds
50g salted peanuts
 
For the dressing
2 tbsps olive oil
1 tbsp soy sauce
Juice of half a lime
1 tsp runny honey
salt and pepper to season
Instructions
Place the cabbage, carrot, apple, sesame seeds, mint and coriander in a bowl
set aside 1 tbsp peanuts, roughly chop the rest and add to the bowl
mix together the dressing ingredients in a small jar and shake well
Pour over the dry ingredients.  If you have too much dressing, it will keep well in the fridge
Sprinkle over the remaining peanuts and serve
The lovely people at NyonsOlive sent me a selection of their products to try.  The Nyons cooperative was set up in 1923 and produces eating olives and many olive products, including their delicious olive oil with aromas of hazelnut and green apples.  This oil is truly delicious and I have been using it in everything.  It works particularly well for me in salad dressings and I was keen to try it in this crunchy Asian Salad.  If you want to find out more about NyonsOlive, click here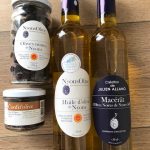 Thanks to the team at Vignolis Cooperative du Nyonais for gifting me their products
---
What Do You Think?
---
Recommend this content to other Eating Ideas readers by giving it a thumbs up!
---
Or why not tell us what you think by leaving a comment?