A new menu at the Ivory Restaurant, Belfast
Monday, February 4, 2019
I was invited to try the new menu in the Ivory Restaurant in Belfast. Delicious food and great service- what a treat! Thanks to the Ivory for gifting the meal for us to try!
---

When I got the invitation to try the new dishes, I didn't hesitate in saying yes.  I'm a big fan of the Ivory and was keen to discover what the menu had in store.
I invited Mr. Eating Ideas along as a treat for his birthday and he was more than up for the adventure.
On arrival, we were served an Eternal Youth cocktail.  This was a kind of French Martini with an aquafaba foam which was absolutely delicious and a perfect start to our evening as we perused the menu.
After much debate, we eventually made our choices.  For starters, I opted for the lamb koftas with sumac grilled vegetables, pomegranate and cumin spiced Greek yoghurt.  This all came served on a flat bread which if anything made it a little too substantial for a starter but it really was delicious and I just worked around the bread and focussed on the best bits.  I truly loved the combination of flavours and textures and will be back to have this dish again!
Mr. Eating Ideas opted for the chicken liver parfait with apple & pear chutney, toasted brioche and watercress.  This was beautifully presented on a wooden  platter and was declared to be most satisfactory.
For my main course, I selected the vegetarian risotto with smoked paprika butter, tomato, courgette, basil and chilli gremolata.  Sometimes I find that risotto can be a bit oily but this was far from it.  It was packed full of veg, fresh and delicious.
Mr. Eating Ideas chose the seared scallops and slow cooked pork belly, served with carrot & ginger puree, crispy leek and yuzu dressing. He went very quiet during this course which is generally a good indication that he is really enjoying the food.  He did confirm that and described the pork belly as really succulent.
We didn't get to choose our desserts, instead, the chef sent us a sharing pudding of Almond Basbousa.  It's not what I would normally choose but was perfectly tasty and a nice sweet note at the end of the meal.
When we discussed our favourite element of the meal, the koftas got my vote and the pork belly got Mr. Eating Ideas' seal of approval.  We definitely plan to make another visit!
For more details about the Ivory and to book, click here.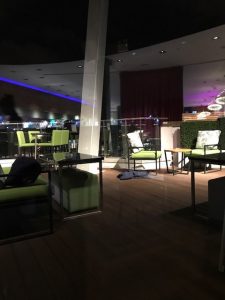 What Do You Think?
---
Recommend this content to other Eating Ideas readers by giving it a thumbs up!
---
Or why not tell us what you think by leaving a comment?