A unique dining experience in Belfast- Six by Nico
Friday, March 8, 2019
Scottish-Italian chef Nico Simeone has introduced his unique dining concept to Belfast. 'Six by Nico' in the Cathedral Quarter of Belfast will serve up a brand new six-course £28-a-head tasting menu every six weeks, each one themed on a different place, memory or idea.
---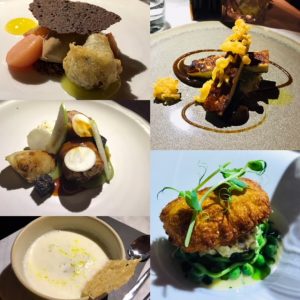 I was delighted when the team at "Six by Nico' invited me to join them to try their first six course tasting menu for Belfast on the theme of 'The Chippie'.  I was excited to see how Nico could take the NI favourite of fish and chips and elevate it to a new level.  I was also intrigued by the wine pairings as my go to drink with fish and chips is a nice cup of tea!
I invited my friend Clare to join me and we had quite a debate about what Nico might have in mind.  We met at the restaurant which is situated in Waring Street, right in the heart of the Cathedral Quarter.  The venue is lovely, very spacious with a great atmosphere.
We were greeted by assistant manager, Ellen, who was delightful. She explained the menu to us, pointing out that we could have the vegetarian alternative to any of the courses if we fancied it. Better still, she brought us out the most refreshing drink made with gin, sherry, lemon, samphire and sparkling water- delicious!
First up on our "Chippie' experience was 'chips and cheese' but not as we know them.  This was a parmesan espuma (foam) with crisp potato and a curry oil, served with a parmesan crisp.  If I'm honest, I would be happy with a bowl of this at home with bread to dip in- it really is the perfect comfort food and I loved it!
Next up was 'Scampi' monkfish cheeks, pea emulsion, wild garlic and gribeche.  This was partnered with a Villa Nova Alvarinho wine which was perfect with it.
Our next course was 'Steak Pie', beef shin with burnt onion ketchup, mushroom duxelles, red wine and glazed puff pastry, served with a glass of The Gatekeeper Red Kloovenburg wine.
The "Fish Supper' was cod with confit fennel, samphire and beer pickled mussels.  For this one I opted for the vegetarian option of halloumi with home made brown sauce, fennel and salt & vinegar scraps.  I love halloumi and just couldn't resist trying this.  I'm glad I did as it was delicious.  Thankfully, Clare was happy to share so we got the best of both, served with a glass of Diez Siglos Verdejo.
Next up was 'smoked sausage', a trio of port with salt baked celeriac, caramelised apple and black pudding.  I really don't like sausages so I opted for the veggie version with sweet potato and feta (two of my favourite ingredients) This course was paired with 'The Mixed Thing' Grenache wine.
At this point we really were quite full but couldn't resist the final course, that Scottish classic, 'Deep fried Mars Bar' this was caramelia chocolate, orange sorbet and cocoa nib.  I have to say that it really was a beautifully balanced pudding, with the orange cutting through the sweetness of the chocolate. We loved it!  The paired wine was a ChileanTabali Pedregoso.  I'm not normally a fan of dessert wine but this worked really well with the pudding.
I got to meet Chef Nico at the end of the meal.  He was charming and clearly delighted by the positive response he has been getting in Belfast.  I would encourage you to pay a visit and enjoy this unusual experience.  Personally, I can't wait for the next themed menu!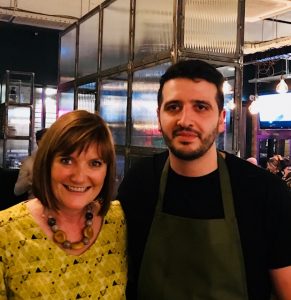 Thanks to the team at Six by Nico for gifting this delicious meal.
What Do You Think?
---
Recommend this content to other Eating Ideas readers by giving it a thumbs up!
---
Or why not tell us what you think by leaving a comment?