Afternoon tea in the Beech Hill Country House Hotel
Tuesday, May 14, 2019
If you like afternoon tea, you will definitely love this version in the Beech Hill Country House Hotel in Derry. Its the perfect treat!
---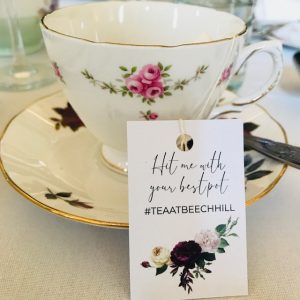 I was invited to try the hotel's new afternoon tea which is named in honour of Lady Isabella who married Alexander Skipton of Beech Hill back in the 1750's.  By all accounts, it was a pretty miserable marriage for Isabella who endured 7 years of complete silence with a grumpy Alexander! To help her cope, she threw herself into baking delicious treats for her neighbours.
The delicious treats continue today with this fabulous new afternoon tea.  A delectable selection of mini sandwiches include smoked salmon on rye with pickled shallot, capers & horseradish; salt beef & celeriac remoulade with mustard on a brioche bun and goat's curd, roasted onion and basil on focaccia.  All totally delicious.
As the winner of Northern Ireland's best scone, I can be quite critical but these scones were light and fluffy, just how I like them and served with butter, jam & cream.
Generally in an afternoon tea, the sweet treats are my least favourite part but I was looking forward to trying these as they are prepared by a Michelin starred chef, so had to be good!  I have to say, I wasn't  disappointed.  We were treated to  a little choux bun, a fruit tartlet, a salted caramel macaroon and my absolute favourite, a white chocolate entremet.  Everything was served with a choice of teas or coffee.
If you would like to find out more or to book, click here.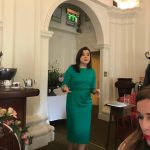 We were delighted that Eileen Donaghey, the afternoon tea expert was on had to instruct us on afternoon tea etiquette.  There was so much to learn.
Here are some of Eileen's top tips:
Make sure to fold your napkin in half diagonally and drape across your knees
Pinch the top of your teacup handle rather than sticking your finger through it.
Never stick your little finger in the air
Use your cutlery to lift the sandwiches but your hands to lift the scones
Break the scones into pieces before adding the butter, jam and cream.
To WIN an afternoon tea for 2 people in the Beech Hill Country House Hotel, just pop over to the Eating Ideas Instagram page to enter- click here.
Thanks to Beech Hill Country House Hotel for inviting me to sample the Lady Isabella Afternoon tea!
What Do You Think?
---
Recommend this content to other Eating Ideas readers by giving it a thumbs up!
---
Or why not tell us what you think by leaving a comment?