Brunch in Lamppost cafe, Belfast
Sunday, June 2, 2019
My latest discovery in Belfast, The Lamppost Cafe on the Upper Newtownards Road, near CS Lewis Square.
---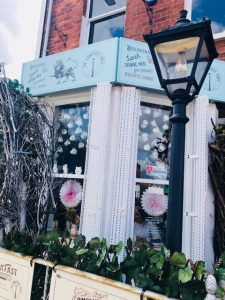 I was delighted to be invited to try the brunch at The Lamppost Cafe in East Belfast.  It's a venue that I have been keen to visit for a while.
I'm a big fan of CS Lewis Square, which is nearby and features bronze statues from "The Lion, the Witch and the Wardrobe"  The Lamppost Cafe also pays homage to this Belfast Author.
The cafe is quirky and charming in equal measure.  Jam packed full of Narnia inspired pieces, it's fascinating.  So much to browse before climbing the bookcase stairs to even more curiosities!
The cafe has been open for 2 years and seems to be going from strength to strength.  Its is ideally located close to the Connswater walkway and is a popular spot for dog walkers as the ground floor is dog friendly.
It holds regular events including a literary knitting evening and has even hosted a few weddings!
We were served home-made granola in cute teacups with yoghurt, granola and chocolate shavings- totally delicious.  Next up, I opted for Mushroom Bruschetta with feta cheese and balsamic glaze.  I am a total feta freak and this didn't disappoint.  I will definitely be back to try this again.  I also liked the look of the poached eggs & avocado on sourdough!
Over tea and coffee, we were served a selection of sweet treats, red velvet cake, lemon meringue cupcakes and peanut butter slices to name a few!
I can't wait for my next visit and would recommend that you try it out.  I hope you enjoy it as much as I did!


While you are in the area, why not visit CS Lewis Square, a public space celebrating the work of Belfast author, CS Lewis.
The square features bronze sculptures from "The Lion, the Witch and the Wardrobe"
Thanks to the team at Lamppost Cafe for the hospitality and to Cathy Martin for the kind invitation!
What Do You Think?
---
Recommend this content to other Eating Ideas readers by giving it a thumbs up!
---
Or why not tell us what you think by leaving a comment?