Desert Island Dishes in Harbour & Company, Donaghadee
Thursday, August 22, 2019
I was invited to attend "Desert Island Dishes" in Harbour & Company in Donaghadee, as part of the Open House Festival- what a treat!
---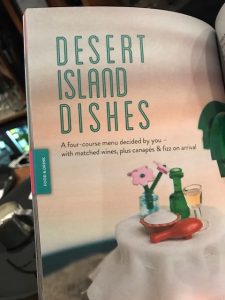 Have you been to Open House Festival yet?  Its jam packed full of fun events with something for everyone.  Best of all, there are loads for fabulous foodie events!
Myself and Mr. Eating Ideas were invited to one of these events,  "Desert Island Dishes" in Harbour and Company,  a four course tasting menu with paired wines.
The concept of the event was that diners would share their all time favourite dishes and chef, Paddy Rowan would use them as the inspiration for his menu and local wine merchant, Neill Wines would pair some perfect wines to accompany each dish.
As we arrived early, we nipped into Pier 36 next door, to enjoy a Copeland gin, distilled right in the heart of Donaghadee and a favourite tipple of mine.  Then is was straight next door to join the event.
On our arrival, we were warmly greeted by Festival Manager, Alison Gordon and handed a refreshing glass of Prosecco (so far, so good!)  Delicious canapés included, smoked salmon on wheaten bread, Goats cheese & beetroot crostinis, mini quiches and Copeland Gin sausage sliders.  
The party then all moved upstairs to the restaurant, which overlooks the Copeland Islands and enjoys stunning views of Donaghadee harbour.
Wine buff, Lewis Waterworth talked us through  each wine pairing as we were served each course.
First up as BBQ Fruits de mer with Groomsport samphire and sea buckthorn, served with Les Roches Blanches Muscadet Sevre et Maine Sur Lie 2017, Loire Valley France.
Our main course was Skeaghanore duck breast, duck ragout croquette, pickled cherries and marsala jus, paired with Herve Kerlann Cuvee K Hautes Cotes de Nuit 2016, Burgundy, France.
Pudding was a rather lovely Eldeflower creme caramel, poached strawberries and meadowsweet ice-cream, served with Marie Maria Lutz Pacherenc du Vic-Bilh 2015, Madiran, France.  I'm not normally a fan of dessert wine, but this worked perfectly with the sweetness of the caramel and I loved it!
Our cheese course was St. Tola goats cheese with carrot chutney and carrot cake.  The carrot cake was cleverly shaped into carrots and topped with carrot greens.  I totally adored this quirky twist and the cake, chutney and cheese combination was delicious.
At the end of the meal, Festival Director, Kieran Gilmore addressed the diners and brought Chef, Paddy out for a round of applause.
This really was a very entertaining evening with some delicious food and perfectly matched wines.  We thoroughly enjoyed ourselves.  For more about The Open House Festival and to book, click here
This invitation was gifted. Sincere thanks to Open House Festival, Harbour and Company and Alice PR for a fantastic night
What Do You Think?
---
Recommend this content to other Eating Ideas readers by giving it a thumbs up!
---
Or why not tell us what you think by leaving a comment?