Exploring Strangford with a stay in the Dufferin Coaching Inn
Wednesday, July 18, 2018
Myself and Mr. Eating Ideas were invited to explore some of the Strangford area with an overnight stay at the Dufferin Coaching Inn in Killyleagh. With the perfect weather we have been having a staycation is just the ticket. A chance to enjoy what's right on our doorstep? Yes please!
---

I had heard great reports about the Dufferin Coaching Inn and was keen to give it a try.  I'm so glad that we did as it really didn't disappoint!
It is situated in the centre of the picturesque village of Killyleagh which lies within the Newry, Mourne & Down council area and on the western side of Strangford Lough.
Leontine, the owner is a wonderful character who gave us a warm welcome on arrival and showed us to our room before setting us off on our adventure!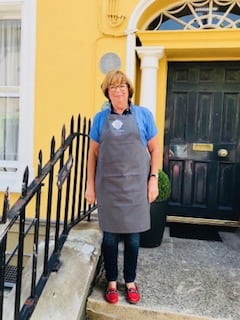 Leontine greeting us on arrival
Our mission, which we chose to accept was to make our way to Echlinville Distillery in Kircubben, for a special tour and a chance to sample the spirits they produce, including my favourite, Jawbox Gin!
When we arrived at Echliville we were shown into the main house and treated to tea and cakes.  Once the group had all arrived we were given the grand tour and shown how the range of Echlinville spirits are produced.  It was fascinating to learn how the business started and the processes used to create their famous tipples.  Best of all, we were able to sample some of our favourites.  What a great way to spend an afternoon.  It's well worth a visit!
Staying in the dufferin coaching inn
After our visit to the distillery, we decided to dine in the Poacher's Pocket in Lisbane.  We have dined here once before and loved it.  We were keen to try it again so it was the perfect choice when we were in the area.
After a wonderful meal, we returned to Killyleagh where we enjoyed a quick night cap in the Dufferin Arms, the pub next door to the Dufferin Coaching Inn, before turning in for the night.
Our room was so comfortable that I enjoyed the best sleep that I have had in ages and woke up totally refreshed and ready for one of Leontine's fabulous breakfasts.
We tucked into fresh fruit, cereal and yoghurt before enjoying a cooked breakfast, washed down with gallons of tea.  For me, the best bit was the little mini, potato cakes, which were just divine and a little bit healthier as they had been dry-fried- delicious!
About the Dufferin Coaching Inn
Leontine kindly gave me the guided tour of the guest house. It was great to see where she grows her herbs in her roof garden and to see the Lounge area where guests can unwind during their stay.
The complete surprise for me though was the large basement function room, complete with its own sizeable bar.  Perfect for private events.
The Inn is actually based in an old Ulster Bank Branch and you  can see the original vault door on the way into the toilets.  Very impressive too!
What Do You Think?
---
Recommend this content to other Eating Ideas readers by giving it a thumbs up!
---
Or why not tell us what you think by leaving a comment?