Fabulous food at Browns Restaurants
Saturday, March 11, 2017
I was delighted to be invited attend a special NI Year of Food + Drink legacy event to celebrate Browns Restaurant group in Derry being recognised as "Destination Delicious". I jumped at the chance as I have heard only good things about the Browns group and have been wanting to visit for some time.
---

What a treat!  A chance to visit 3 of the venues in the Browns Restaurant group, meet some of their top suppliers and sample some fantastic food.  Yes please- count me in!
Browns has been recognised for its excellence many times- to name a few:
Only restaurants in Derry~Londonderry and Letterkenny listed in Michelin Guide 2017
Winner of Best Restaurant in Ulster in 2016 and during Derry~Londonderry UK City of Culture 2013
Winner of Best Resturant in Derry seven years in a row
Named in Sunday Times Ireland Top 100 Irish Restaurants 2017
Named one of the top 101 Great Irish Restaurants in Business Post 2017
It's no mystery as to why I was so keen to visit!
A group of us met up in Belfast and hopped on a coach to Derry to begin our culinary adventure.  After 2 hours of chat on the way there, our welcome drink in Browns in Town was much appreciated.  On our arrival, we were given the opportunity to chat to some suppliers and sample their wares.  First up for me was a taste of the Donnybrewer sea salted butter which was creamy, rich and delicious- a total treat for the tastebuds.  Moving round the room, we also met the  teams from Donegal Prime Fish, Brendan Gallagher Meat, Kee Fruits, Northbound Brewery, Russell Eggs, Tamnagh Foods and Quiet Man Whiskey.  There really is nothing better than meeting local food producers in person and learning about how they developed their products.  Their stories are fascinating and I am a happy audience.  All while tasting their delicious goodies.  A favourite for me was the Quiet Man Whiskey.  I have never been a fan of whiskey but this may have just converted me (as if I need another tipple to tempt me!)
For me, it speaks volumes about the Browns group that they are so passionate about the quality of their suppliers and are happy to showcase them as part of their success.  While we mingled, canapes were served, including delicious little cups of soup and mini burgers that actually weren't that mini!  Next, we were back on the bus for the short trip to Browns Restaurant and Champagne Bar where we took our seats for dinner.  Marcus Roulston and Chef, Ian Orr run the business together and both spoke to the assembled diners.  I was delighted that Ian was set up in front of us all to show us how he prepared each dish.  Funny and self- effacing, he charmed us all and clearly demonstrated his passion for the business and the ingredients he was using.
First up on the menu was a selection of homemade breads with Donnybrewer butter followed by Loughview Farm egg yolk with Errigal Bay scallop and pomegranate.  Ian has shown us how he prepared this and it really was a work of art, served in the shell.  This was followed by Donegal Prime crab with apple and pickled cucumber.  The crab was mixed with a little homemade mayo and was both light and tasty.  All washed down with a rather lovely Lapostolle 2015 Chilean Chardonnay.  I decided a while back that I didn't like Chardonnay but I think I need to get over myself as this was really good!
Next up was Northern Irelands new signature dish- Born and braised.  (a special thank you to Shane from Yes Chef Magazine for sharing the recipe with me).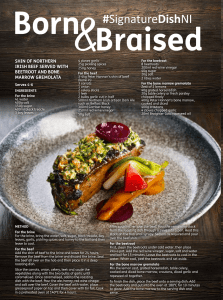 Ian's version was a melt in the mouth Beef cheek from butcher, Brendan Gallagher.  This had been soaked in brine and was served with mixed beetroot from Kee Fruit.  This course was partnered with a Tomero Malbec, Argentina 2015 and a Kolsch style lager from Northbound brewery.  To finish we were served a divine Rhubarb Parfait, covered in white chocolate and served with Sichel Sauternes, France 2010.  The highlight of the menu for me was watching Ian in action, preparing the dishes.  Top quality ingredients in the right hands resulting in some delicious dishes.
Fully replete it was back on to the bus to our final destination, the fabulous Ardtara Country House Hotel for a nightcap, cup of tea and an indugent Dulche de Leche shortbread bite before beading home tired but happy!
I can assure you that while this was my first visit to Browns, it definitely won't be my last.  Pay them a visit- you won't  regret it!
A very special thank you to Nicola Bothwell from NB Chartered Communications and Eimear Kearney for the invitation.  It was greatly appreciated!
What Do You Think?
---
Recommend this content to other Eating Ideas readers by giving it a thumbs up!
---
Or why not tell us what you think by leaving a comment?