The Diamond Edit Afternoon Tea at the Galgorm Resort & Spa
Wednesday, October 9, 2019
I was invited to try the Diamond Edit Afternoon Tea in the Galgorm Resort & Spa. I love afternoon tea so I jumped at the chance!
---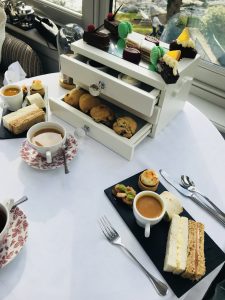 I decided to invite my friend, Eileen, also known as the Afternoon Tea expert, from @afternoontealondon.  Eileen knows her suff when it comes to afternoon tea and I was keen to pick up some top tips from her!
On our arrival at the Galgorm Spa and Golf Resort, we were shown to the River Room Conservatory, a bespoke glass creation with stunning views of the cascading river Maine and the grounds of the resort.  It really is a beautiful location and I felt myself unwinding immediately.  Our server presented us with a rack, containing a wide variety of teas to choose from. I may be boring but for me the best pairing with afternoon tea is always a traditional black tea which is what we opted for.
First up, was a selection of savouries.  We were served a demitasse of spicy soup and a tasty selection of sandwiches including: smoked salmon & cream cheese on granary, 3 cheese, spring onion & mayo on white, chicken, bacon, gem & basil mayo in a tortilla wrap and bruschetta, prawns, sundried tomato and avocado cream.  This course also included a cute little individual cottage pie, topped with cheesy mash.  I have to be honest and say that this one was a little bit messy to eat and could have been a little smaller to easily pop in the mouth but it was delicious.
I was curious as to what the Diamond Edit title of the afternoon tea meant and that soon became clear when our next course arrived.  It was served in a pretty jewellery box, with a variety of treats inside and on top.
In the drawers, we found a choice of Blueberry or Buttermilk & raisin scones with servings of mixed berry preserve and clotted cream. ( Did you know that I was the winner of NI's best scone?  Click here for more!)
On top of the box was a stunning little selection of sweet treats to choose from: A little diamond shaped iced Victoria sponge, Rosewater Turkish delight, carrot cake with orange mascarpone, peppermint macaroon with white chocolate ganache and a dark chocolate and raspberry delice with diamond shaped chocolate shards.  My favourite part of any afternoon tea is the sandwiches and scones but I have to say that the standout sweet treat was the diamond iced Victoria Sponge!
After tea, we enjoyed a stroll around the grounds and stumbled upon a double swing overlooking the river.  We happily  sat there swinging, debating the many merits of afternoon tea and feeling 100% relaxed.
The Diamond Edit Afternoon Tea costs £29.95 midweek and £28.95 at the weekend.
Eileen's 5 top tips for Afternoon Tea
Make sure to fold your napkin in half diagonally and drape across your knees.
Pinch the top of your teacup handle rather than sticking your finger through it.
Never ever stick your pinky finger in the air when drinking your tea
Use your cutlery to lift the sandwiches but your hands to lift the scones.
Break the scones into pieces with your hands before adding jam and cream.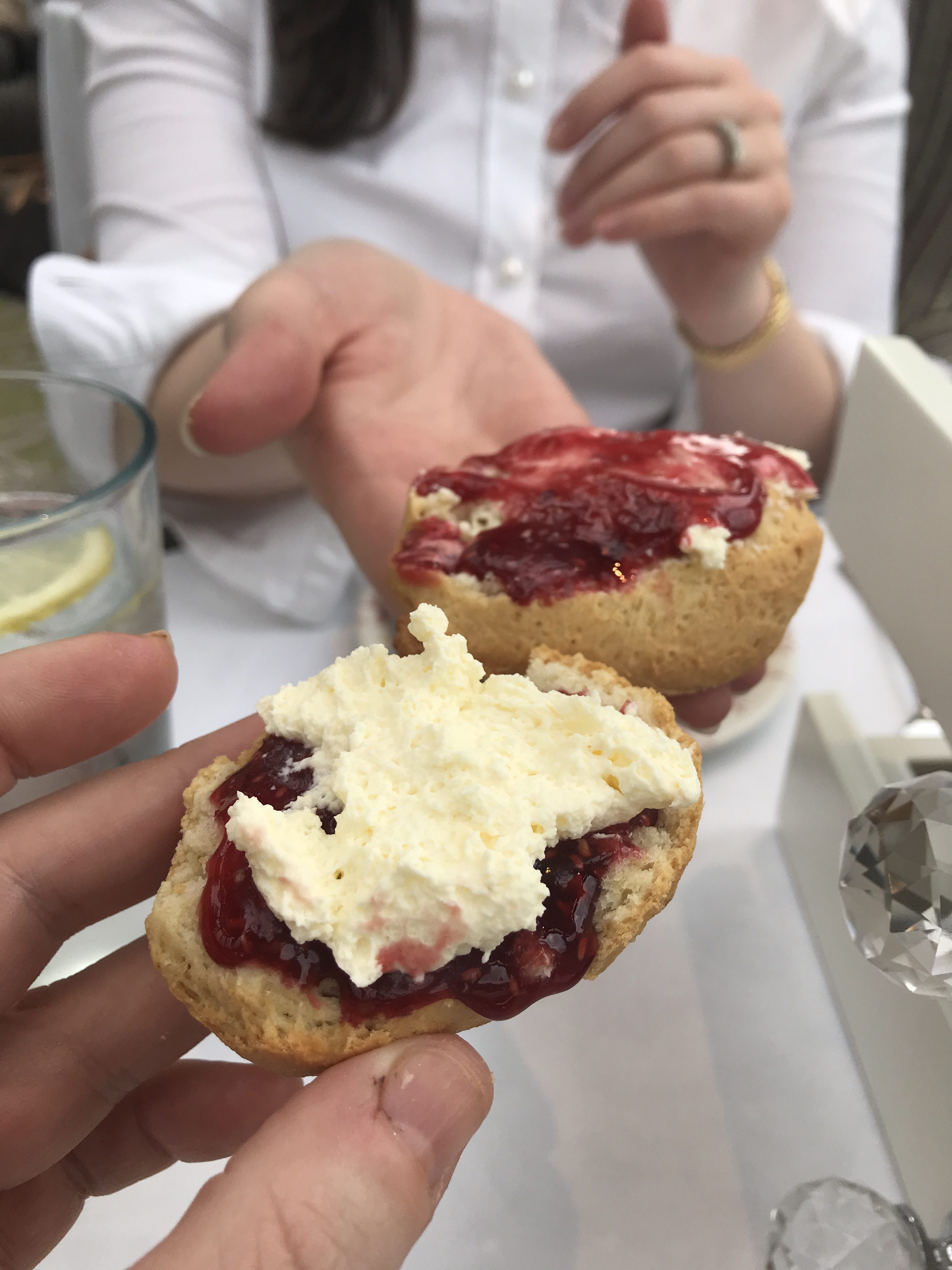 Jam first or cream first?
That is the ongoing question. For me it's definitely jam first every time!.
Thanks to the Galgorm Resort and Spa for inviting me to try their Diamond Edit Afternoon Tea.
What Do You Think?
---
Recommend this content to other Eating Ideas readers by giving it a thumbs up!
---
Or why not tell us what you think by leaving a comment?