The new menu in Coppi Belfast
Monday, February 25, 2019
The lovely team in Coppi, Belfast invited me to sample their new menu. What a treat- delicious, contemporary Italian food!
---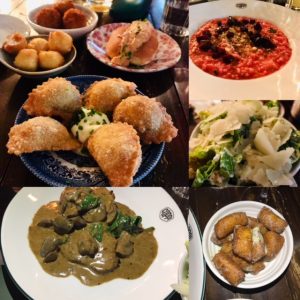 I am a big fan of Coppi and was excited to discover what is on the new menu.  I invited my friend Karin to join me as she is a massive foodie and I knew she would love it!
On our arrival, we were warmly greeted by manager, Stephen who talked us through the menu and suggested that he bring a few of the sharing Ciccheti dishes for us to try.  Even better, he presented us with two delicious cocktails, one with coconut tequila and one with Jawbox gin.  Both were delicious so we decided to share them!
The ciccheti dishes that Stephen selected for us were perfect for sharing, feta fritters with honey, crab & fennel roll, duck ravioli fritters and sausage arancini.  The feta was definitely my favourite, a perfect combination of salty and sweet.
For our main courses, I chose the beetroot risotto with gremolata, scamorza cheese and Burren balsamic.  I was delighted with my choice.  It was delicious.  Sometimes, risottos can be a bit greasy but this one was fabulous!  Karin selected the pork scaloppine with mushrooms, spinach and marsala sauce.  She let me try a bit and I loved it.  I will definitely be ordering it on my next visit!  In a serious case of "eyes bigger than bellies", we also decided to try the caesar salad and gnocchi.  There really was no need but they both tasted great!
We definitely had no room for pudding but will add that to the list for my next visit!  If you want to check out the various menus on offer, you can see them here.
I would highly recommend that you give Coppi a try the next time you are in town!
———————————————————————————
A big shout out to our waiter Padraig, who looked after us extremely well!


Thanks to the team at Coppi for gifting the delicious lunch. It was a fabulous treat!
What Do You Think?
---
Recommend this content to other Eating Ideas readers by giving it a thumbs up!
---
Or why not tell us what you think by leaving a comment?