Making Chocolate Oscar cupcakes
Sunday, February 26, 2017
I love film awards ceremony season- the glitz, the glamour, the glut of excellent movies available in cinemas- all of it!  So its now the day of the mother of all awards ceremonies, The Academy awards, and I am ready with my fabulous Oscar cupcakes! I was asked to organise an event to celebrate success […]
---
I love film awards ceremony season- the glitz, the glamour, the glut of excellent movies available in cinemas- all of it!  So its now the day of the mother of all awards ceremonies, The Academy awards, and I am ready with my fabulous Oscar cupcakes!
I was asked to organise an event to celebrate success in the workplace and I made these as novelty prizes.  I must say, they went down a storm.  They looked the part and were delicious too.  I made sure to make a few extra to enjoy at home.
A quick internet search led me to a supplier on ebay who sells the Oscar moulds which got me off to a good start. Once they arrived, I set to work by melting both milk and white chocolate and pouring into the moulds. Then once they had hardened, I turned them out onto kitchen paper and sprayed them with edible gold shimmer.
I then used a brush to paint on edible gold glitter.  I held a lit match against the back of each piece to melt it enough to stick them together
Ok, so Chocolate Oscars made, all I had to do was make the cupcakes- here is the recipe
Ingredients for cupcakes:
4oz butter (softened)
4oz caster sugar
2 eggs
1 tsp vanilla essence
4 oz self-raising flour
2-3 tblsp milk
For the buttercream:
5 oz butter (softened)
10 oz icing sugar
1/2 tsp vanilla essence
2 tblsp milk
Instructions:
Preheat the oven to 180C/350F/Gas 4 and line a 12-hole muffin tin with paper cases.
Cream the butter and sugar together in a bowl until the mixture is pale and creamy.
Beat in the eggs a little at a time and stir in the vanilla essence.
Mix in the flour, adding a little milk until the mixture is of a dropping consistency. Spoon the mixture into the paper cases until they are half full.
Bake in the oven for 10-15 minutes, or until golden-brown on top. A skewer inserted into one of the cakes should come out clean if they are cooked. Allow to cool for 10 minutes, then remove from the tin and cool on a wire rack (make sure they are totally cold or the icing will melt).
To make the buttercream icing, beat the butter in a bowl until soft. Add the icing sugar and vanilla extract and beat until smooth. Add some milk until the texture is creamy.
Put the icing into a piping bag with a star nozzle and pipe onto the cup cakes in a circular swirl.
Top with the chocolate oscars
Serve and enjoy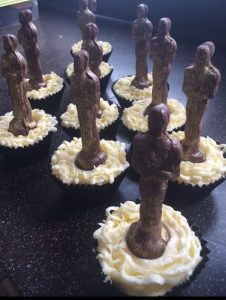 What Do You Think?
---
Recommend this content to other Eating Ideas readers by giving it a thumbs up!
---
Or why not tell us what you think by leaving a comment?
4 responses to "Making Chocolate Oscar cupcakes"