Nominate your favourite restaurant in the Irish Curry Awards
Wednesday, August 14, 2019
Nominations are open for the Irish Curry Awards so make sure that your favourite isn't left out!
---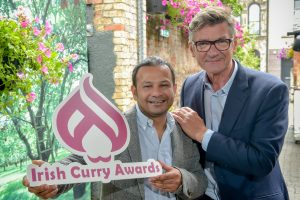 THE hottest restaurant competition is back with nominations now open for the Irish Curry Awards.
Now in its fourth year, event founder Ali Askir wants people to nominate their favourite curry houses across Northern Ireland and the Republic for the awards.
He is joined by head judges Paul O'Connor and Joris Minne along with an expert team of judges around the country who will visit all the restaurants shortlisted.
The gala dinner and awards ceremony will take place on October 22 in Dublin and will be attended by the expert chefs, managers, restaurateurs and people associated within the industry.
The event is sponsored by Cobra Beer and supported by justeate.ie.
Mr Askir said the awards acknowledged the social and economic contribution of the Asian community across Ireland, north and south.
"Curry is one of the favourite foods in Ireland, and some of the restaurants which have been operating for decades are only now being recognised for the quality of their food as well as the role they play in their local communities," he added.
"When dramatic changes in townscapes and living conditions mean the loss of features such as pubs and bank branches, the reassuring glow of your local Indian restaurant takes on a new significance in terms of the role it plays in providing a sense of stability and continuity."
"Asian food plays a massive role in our lives," head Northern Ireland judge Joris Minne added.
"The Irish Curry Awards provide a platform from which to celebrate a broad and varied community which contributes so richly to Irish society and to the economy, north and south."
To nominate your favourite restaurant, visit the website at www.irishcurryawards.com
What Do You Think?
---
Recommend this content to other Eating Ideas readers by giving it a thumbs up!
---
Or why not tell us what you think by leaving a comment?