5 health benefits of honey and a recipe for honey & cinnamon cupcakes
Thursday, August 1, 2019
Honey really is a natural wonder. Its amazing stuff. A spoonful in the morning will help you to wake up and a spoonful at night will help you go to sleep! Here are my top 5 benefits of this wonder ingredient and my recipe for honey & cinnamon cupcakes!
---
TOP 5 HEALTH BENEFITS OF HONEY
1-Its good for the heart!
Honey is packed full of antioxidants that have been linked to increased blood flow and preventing dangerous blood clots
2-Its good for the skin
Honey is a very cheap and effective product to treat your skin. Its antibacterial and anti-inflammatory properties can calm and soothe irritated skin, as well as being loaded with nutrients that nourish and cleanse the surface 
3- It gives you energy
As honey is made up of fructose and glucose, it is a powerful, natural energy snack. Unlike refined sugar, it also contains small amounts of proteins and minerals such as B6, riboflavin and amino acids that can help the body metabolise bad cholesterol and fatty acids
4-It can treat burns and wounds
Honey can have a healing effect on painful burns and lesions. Applying it to wounds has been a technique that's been around since ancient Egypt.  I swear by it for burns
5-It can suppress a cough
Next time you are struck down with the lurgy, try a spoonful of honey, it really does reduce the irritation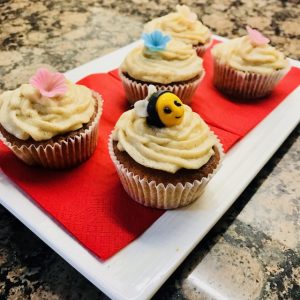 recipe for honey and cinnamon cupcakes
Ingredients
225g butter (softened)

225g caster sugar

4 eggs

2 tsps ground cinnamon 

2 tbsps runny honey

225g self-raising flour

5-6  tblsp milk
For the buttercream
150g butter (softened)

300g icing sugar

½ tsp ground cinnamon 

2 tblsp milk
Instructions
Preheat the oven to 180C/350F/Gas 4 and line 2 x 12-hole muffin tins with paper cases.
Cream the butter and sugar together in a bowl until the mixture is pale and creamy.
Beat in the eggs a little at a time and stir in the vanilla essence.
Mix in the flour, adding a little milk until the mixture is of a dropping consistency. Spoon the mixture into the paper cases until they are half full.
Bake in the oven for 10-15 minutes, or until golden-brown on top. A skewer inserted into one of the cakes should come out clean if they are cooked. Allow to cool for 10 minutes, then remove from the tin and cool on a wire rack (make sure they are totally cold or the icing will melt).
To make the buttercream icing, beat the butter in a bowl until soft. Add the icing sugar and beat until smooth. Add some milk until the texture is creamy.
Put the icing into a piping bag with a star nozzle and pipe onto the cup cakes in a circular swirl.
decorate and serve
I'm slightly obsessed with the bees in my garden.  I seem to have a bee haven as there are hundreds of them buzzing around and I couldn't be more pleased!
They inspired me to make some little sugar craft bees and once I made them, I realised that I really needed something to put them on. What better than these cute little honey and cinnamon cupcakes. To make the bees you just need some white sugar craft paste, yellow and black food colouring and some edible glue.  It's a chance to bring out your inner child, get creative and just a little bit messy!
---
What Do You Think?
---
Recommend this content to other Eating Ideas readers by giving it a thumbs up!
---
Or why not tell us what you think by leaving a comment?