Indulgent chocolate profiteroles
Thursday, March 19, 2015
Feeling indulgent?  Want to spoil yourself?  Look no further- These chocolate profiteroles are just the thing! I tend to have a very limited range of desserts that I make, usually variations of pavlovas and cheesecakes. I decided it was time to be a bit more ambitious and settled on chocolate profiteroles which can be a […]
---
Feeling indulgent?  Want to spoil yourself?  Look no further- These chocolate profiteroles are just the thing!
I tend to have a very limited range of desserts that I make, usually variations of pavlovas and cheesecakes. I decided it was time to be a bit more ambitious and settled on chocolate profiteroles which can be a bit tricky.  It's many, many years since I tackled choux pastry but I was pleasantly surprised that it worked so well.
This is a very easy to make pudding and tastes good.  Best of all, it looks really impressive when served to your guests
To make it you will need:
Ingredients
For the Profiteroles
100 g butter

150 g

plain flour

250mls water

1 tsp

caster sugar

1/2 tsp salt

4 medium

eggs

Carton 

double cream

, whipped
A bit of extra butter to grease the baking sheets
For the chocolate sauce
300 g

dark chocolate broken up (the higher the cocoa solids, the better)

50 g 

butter

3 tsp 

runny honey

3 tbsp

double cream
Instructions:
Preheat the oven to 200C
Grease two baking sheets and line with greaseproof paper.
Melt the butter in a pan and add the water
Bring to a simmer and remove from the heat
Add the flour, sugar, salt and beat into a roux until the mixture starts to form a ball, coming away from the sides of the pan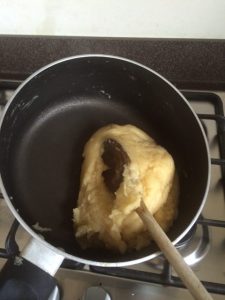 Beat in the eggs until the mixture is smooth and shiny
Place the mixture in a piping bag
Pipe into ball shapes on the baking sheets
Bake for about 30-40 minute or until crisped up and golden
Cool on a baking tray and make sure to split them to let the steam escape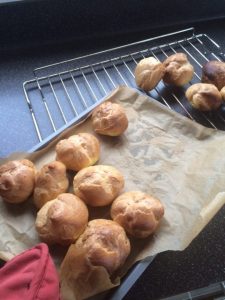 Make the chocolate sauce by melting the chocolate in a dish over a pan of boiling water
Add the butter and honey and stir until melted through
Stir in the cream and set aside
Fill the profiteroles with whipped cream and pour over the chocolate sauce
Serve and enjoy!
---
What Do You Think?
---
Recommend this content to other Eating Ideas readers by giving it a thumbs up!
---
Or why not tell us what you think by leaving a comment?
One response to "Indulgent chocolate profiteroles"