A recipe for Moroccan Harissa Chicken soup
Wednesday, March 22, 2017
This Moroccan Harissa chicken soup uses local products- Harissa paste from Tom and Ollie and dried apricots from Forest Feast but you can use any brands! The result is a wholesome, healthy soup that packs a real taste punch!
---

I love soup- all kinds of soup! There is nothing more satisfying than experimenting with ingredients and flavours and when it's a soup, it's hard to go wrong!
Harissa paste, made from red chillies, garlic, coriander, caraway seeds and other spices is one of my favourite seasonings.  I use it in all kinds of dishes to add a fiery kick.  I tried this version from Tom and Ollie , that I bought at the Inns Farmers market in Newtownbreda.  I couldn't believe the difference between it and the shop bought kind.  It is so fresh and zingy and really adds to the dish.  Be careful if it is your first time using it as it is spicy.  Best to add it a little at a time.  It's easy to add more but impossible to take it out!  I also used dried apricots from Forest Feast as I love supporting local producers!
It's really easy to make.  Give it a try- I bet you love it.  The recipe and instructions are below.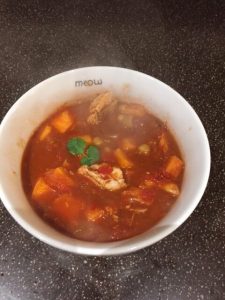 Ingredients
1 onion finely chopped
1 red pepper chopped into small pieces
2 stalks of celery, finely chopped
1 large sweet potato peeled & chopped into small pieces
2 chicken breasts
2 tablespoons of Harissa paste (I used Tom & Ollie)
1 X 400g can of chickpeas
2 X 400g tins chopped tomatoes
6-8 dried apricots, chopped (I used Forest Feast)
2 tsps ground cumin
1 tsps ground coriander
t tsp turmeric
zest & juice of 1/2 lime
500mls chicken stock
---
What Do You Think?
---
Recommend this content to other Eating Ideas readers by giving it a thumbs up!
---
Or why not tell us what you think by leaving a comment?
4 responses to "A recipe for Moroccan Harissa Chicken soup"