My recipe for Sweet potato chilli in the Voucherbox.co.uk recipe book
Monday, February 13, 2017
Voucherbox.co.uk asked me to provide a low budget recipe for their new cookbook. I created this sweet potato chilli dish which is not only cheap to make but delicious too! Take a look at the free online book- it looks amazing!
---
This is a wholesome and hearty vegetarian version of the traditional Chill Con Carne.  It is packed full of flavours and textures and is excellent value for money. This is one that all the family will enjoy.  I made it for my best friends Molly and Rachel and we loved it.  I will definitely be making it again!
You can find the VoucherBox free recipe book here.  Its well worth a look for some fabulous low budget recipes from 22 food and lifestyle bloggers.  I am very proud to be one of them.  Make sure to check it out.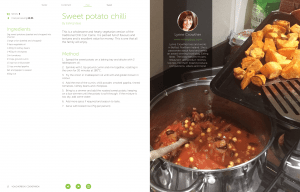 The recipe and instructions are below the video

Ingredients
1 Kg sweet potatoes (peeled and chopped into chunks)
1 large onion (peeled and chopped)
3 tablespoons vegetable oil
1 x 400g tin kidney beans
1 x 400g tin chickpeas
1x tin tomatoes
2.5 tsps ground cumin
1.5 tsp hot chilli powder
1.5 tsp smoked paprika
Salt and pepper to season
450g rice (75g per person)
---
What Do You Think?
---
Recommend this content to other Eating Ideas readers by giving it a thumbs up!
---
Or why not tell us what you think by leaving a comment?
2 responses to "My recipe for Sweet potato chilli in the Voucherbox.co.uk recipe book"